There is a rich array of scholarly, advocacy, and social  groups and organizations in which Disability Studies students at Syracuse University participate.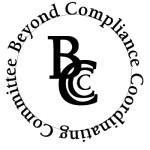 The Beyond Compliance Coordinating Committee is a nationally prominent advocacy group at Syracuse University which focuses on creating and supporting a fully inclusive climate in all University settings.
The BCCC takes an active role in advocating for changes in Syracuse University policies and practices, as well as higher education in general, including the recognition of disability as an element of diversity, University recognition and funding of the Disability Studies program, creating model accommodations exemplifying the University's commitment to equality of opportunity for students with disabilities, and hiring faculty and staff members with disabilities within departments across the University.
Syracuse Un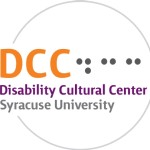 iversity has established the Disability Cultural Center (DCC) to coordinate campus-wide social, educational, and cultural activities on disability issues for students, faculty, staff, and community members with and without disabilities.
The Disability Cultural Center is the first of its kind in the United States to be housed within a Division of Student Affairs, rather than a disability services office; it is also the first to be run by a full-time professional staff member. SU's Disability Cultural Center has a purpose that is parallel to other cultural centers on campus, including the LGBT Resource Center, the Lillian and Emmanuel Slutzker Center for International Services, and the Office of Multicultural Affairs.

The Center on Human Policy (CHP) is a Syracuse University based policy, research, and advocacy organization involved in the national movement to insure the rights of people with disabilities. Since its founding, the Center has been involved in the study and promotion of open settings (inclusive community opportunities) for people with disabilities.
The Center's staff and associates include educators, human services professionals, people with disabilities, graduate students, and family members of children and youth with disabilities. The Center is involved with a broad range of local, statewide, national and international activities, including policy studies, research, information and referral, advocacy, training and consultation, and distribution of relevant publications and reports.
Institute on Communication and Inclusion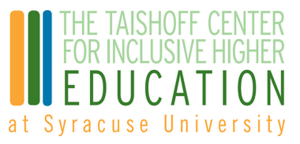 The Taishoff Center is committed to inclusive higher educational opportunities for students with disabilities, particularly students with intellectual and developmental disabilities. The directors have more than sixty combined years of educational research supporting inclusive education and educational rights. Partnered with Syracuse University, the Taishoff Center offers support, research, training, and resources to individuals, families, and college campus communities looking for strategies to foster and support college students with disabilities. The Center also provides information about parents' rights in higher education, universal design for courses, accommodations for specific types of disabilities, and other disability-related resources.