Both Master's and doctoral students are prepared to play leadership roles in the field of disability. For master's students, future careers include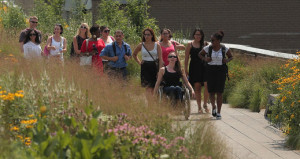 administrative and policy positions in community service agencies, advocacy organizations, independent living centers, parent centers, planning councils, and government agencies. Doctoral students are prepared for a variety of academic, research, and policy positions.  Although all students receive training in Disability Studies, each student's program of study is different, depending on individual backgrounds and interests.
In addition to Disability Studies, those interested in the public administration and policy are directed to courses and faculty Syracuse University's Maxwell School, and those interested in gender are encouraged to pursue studies in Syracuse's Women and Gender Studies program and the Gender and Education concentration within Cultural Foundations of Education. Students are prepared to conduct research and teach courses in both Disability Studies and at least one additional academic discipline. Since Disability Studies is a relatively new area of academic inquiry, with a small, but growing number of university programs, graduates should not expect to obtain full-time positions in Disability Studies.
Some of the major academic and non-academic careers for which doctoral students are prepared include:
Senior positions in university affiliated programs, research and training centers, private research and policy institutes
Leadership positions in federal and state disability agencies
Academic positions in social welfare and human services
Academic positions in cultural foundations, social sciences, sociology, anthropology, gender studies, public policy, and research and evaluation methods
At the Master's level, students are not trained to fill specific positions, but rather receive training in skills, methods, and perspectives to perform a variety of non-clinical positions at community service agencies, advocacy organizations, planning councils, and government agencies.
Examples of future careers of Master's program graduates include:
Protection and advocacy agencies
Parent training and information centers
State mental retardation/developmental disabilities agencies
Self-advocacy associations
Community and family support agencies
University or college offices for students with disabilities
Independent living centers
Senior research and training positions at university affiliated programs, research and training centers, private research and policy institutes