Announcing the Syracuse University College of Law's Spring Lecture Series in honor of the 10th Anniversary of the Disability Law and Policy Program (DLPP).  The DLPP was founded to provide law students the opportunity to specialize in disability law and to participate in innovative academic programs, interdisciplinary research, and experiential learning opportunities that advance the rights of people with disabilities in the U.S. and throughout the world.
The 2015-16 Spring Lecture Series also commemorates the 40th Anniversary of the Individual with Disabilities in Education Act (IDEA), the 25th Anniversary of the Americans with Disabilities Act (ADA), and the 10th Anniversary of the UN Convention on the Rights of People with Disabilities (CRPD) by bringing to campus noted disability rights scholars and practitioners. The lectures will take place in the College of Law, Dineen Hall, 950 Irving Avenue (Rooms TBA). CART and sign language interpreters will be available.
February 2: Sue Swenson, Deputy Assistant Secretary, Office of Special Education and Rehabilitative Services, U.S. Department of Education: Making Progress Toward Inclusion in Education, Tuesday, 4-5:30 pm.
February 25: Eric Rosenthal, Director, Disability Rights International: A Call for the End of Institutionalization and Trafficking of Children, Thursday, 12-1:30 pm.
March 3: Michael Waterstone, J. Howard Ziemann Fellow and Professor of Law, Loyola Law School: Olmstead Exceptionalism, COL Faculty Workshop, Thursday, 11:30-1 pm.
March 22: Stephanie Ortoleva, President, Women Enabled International, Inc.: The Rights of Women with Disabilities: An International, Legal, Disability Rights and Feminist Activist Approach, Tuesday, 4-5:30 pm.
April 5: Samuel Bagenstos, Frank G. Millard Professor of Law, University of Michigan Law School: The Politics of Disability Identity at ADA +25, Tuesday, 4-5:30 pm.
April 12: Sagit Mor, Teaching Fellow, University of Washington and Senior Lecturer at the University of Haifa Faulty of Law: From Misfortune to Injustice: Disability, Torts and Inequality, Tuesday, 4-5:30 pm.
Co-sponsored by: Syracuse University College of Arts and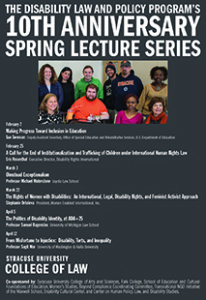 Sciences, Falk College, School of Education and Cultural Foundations of Education, Women's Studies, Beyond Compliance Coordinating Committee, Transnational NGO Initiative of the Maxwell School, Disability Cultural Center, and Center on Human Policy, Law, and Disability Studies.
For more information about the Lecture Series, please contact Professor Arlene Kanter, Director, DLPP at kantera@law.syr.edu or Chris Ramsdell at ceramsde@law.syr.edu, 443-9542.